What is NYDA® express?
NYDA® express against head lice: No. 1 in Germany
NYDA® express is a scientifically proven lice treatment that does not contain any neurotoxic pesticides.
NYDA® express is designed to kill head lice and their eggs using a physical mode of action rather than chemical insecticide (knock down). NYDA® express contains two dimethicones (silicone oils), which seep into the breathing holes of lice and eggs, blocks their oxygen supply which rapidly suffocates and kills them. This physical mode of action means that even head lice and eggs which have built up a resistance to chemical treatments (knockdown resistance) are still eliminated.
Using silicone oils means NYDA® express does not have the harsh, unpleasant chemical odours of some insecticide-based head lice treatments. NYDA® express has been shown to be well tolerated by all ages including pregnant women and infants.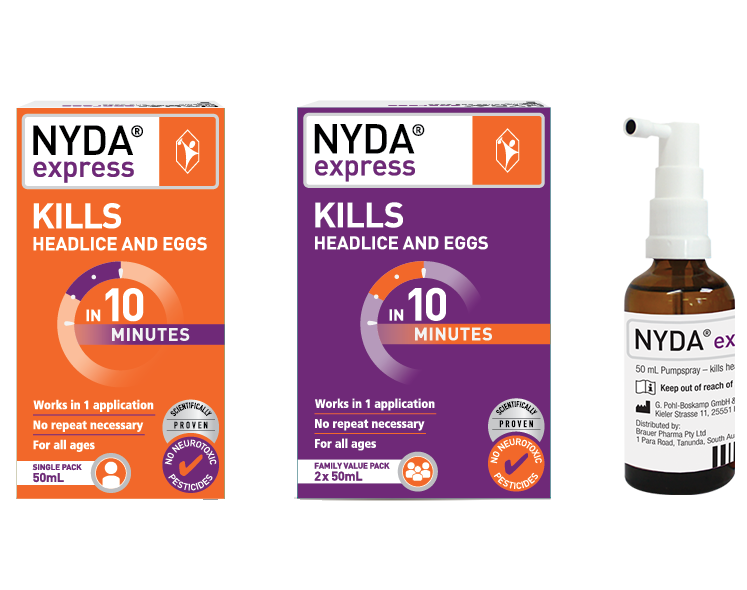 How does NYDA® express work?
Dual action oil
NYDA® express uses a combination of two specifically developed dimethicones - silicon oils. Dimethicones are commonly found in many cosmetic products and they can be volatile (rapidly vapourise) or viscous (thick in consistency). When these two dimethicones are combined in NYDA® express they create a liquid with low surface tension that spreads easily over the hair and scalp. It works to penetrate the breathing holes of head lice and eggs, rapidly replacing the air in their respiratory tracts. The volatile dimethicone evaporates and the remaining viscous oil thickens and effectively closes the airways of the parasites. Without air (oxygen) lice, their larvae and eggs will die. They can then be combed out of the hair. The remaining dimethicone may then be simply washed out of the hair with shampoo, no burning, no stinging, no fuss.
Watch the short video below of NYDA® express in action.
Laboratory experiment of the parasitological research group, Zoological Institute of Kiel University, 24118 Kiel, Germany, A/Prof. Wolfgang Böckeler, PhD, Ira Richling, PhD
How to apply NYDA® express – 4 easy steps
Apply to dry hair. Spray thoroughly over all of the hair and scalp beginning at the roots.

Massage in well until the hair is completely saturated with the solution and allow it to sit in the hair and work for 10 minutes

Comb hair carefully afterwards using the comb provided to remove the suffocated lice and eggs

Wash out with your normal shampoo
Consumer Information Pamphlet
Click the link to download the NYDA® express pamphlet including helpful hints on avoiding those nasty nits!
FAQs / Frequently Asked Questions